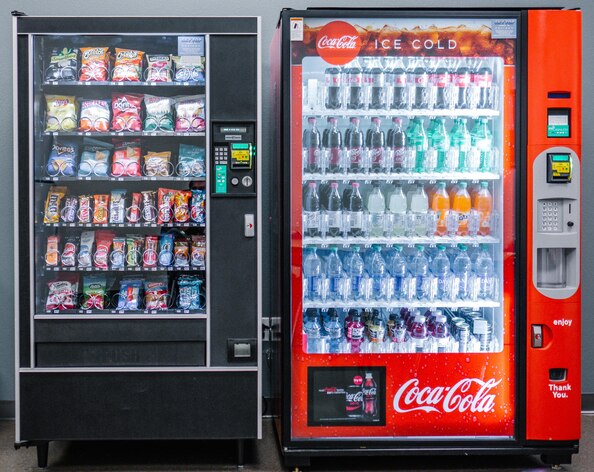 Pam's Vending offers on-demand vending solutions including beverages, snacks, frozen foods, fresh foods, and coffee. We only stock the freshest high-quality, name brand goods your customers or employees want. Our happy local clients range in size from small to huge and we've been at it for more than 30 years. Whether you have 100 people or 10,000, we are equipped to handle any size of business.
Our state-of-the-art vending machines are ideal for small to large employee break rooms, or an office building with an easily accessible open area. We provide professional on site vending that includes free set up, hassle-free stocking, and ongoing maintenance so you can focus on running your business. You provide the space and we'll do the rest!
Bountiful is a city located in Davis County Utah. With a 2020 population of 46,404, it is the 19th largest city in Utah. Bountiful is currently growing at a rate of 0.70% annually and its population has increased by 1.40% since the most recent census, which recorded a population of 45,762 in 2020. Spanning over 13 miles, Bountiful has a population density of 3,514 people per square mile. The average household income in Bountiful is $103,454 with a poverty rate of 4.89%. The median age in Bountiful is 33.3 years, 32.2 years for males, and 34.8 years for females.
Bountiful was settled on September 27, 1847, by Peregrine Sessions and his family. It was Utah's second settlement after Salt Lake City. It was known as Sessions Settlement and North Canyon Ward before being named Bountiful in 1855. This city was so named both because of the city's reputation as a great place for gardening.
The original portion of the city and downtown is located at the base of the Wasatch Range, which rises high to the east, overlooking the city. Most of the residential neighborhoods climb high up the slopes of the mountain. To the west lies a flatland that extends to the Great Salt Lake and the mudflats and marshes that border it. Areas of Bountiful include Val Verda in the southern part of the city. The cities surrounding Bountiful include: North Salt Lake to the south, Woods Cross and West Bountiful to the west, and Centerville to the north. Most land to the east of Bountiful is U.S. Forest Service property.
The city grew rapidly during the suburb growth of the late 1940s, 1950s, and 1960s and was Davis County's largest city until 1985, when it was surpassed by Layton. Although a part of the Ogden–Clearfield metropolitan area, it serves as a bedroom community to Salt Lake City and the surrounding area. However, due to the very narrow entrance into Salt Lake County, roads between the counties often reach near-gridlock traffic during rush hour. The FrontRunner commuter rail has been running since April 2008, and the Legacy Parkway was opened on September 13, 2008. These were built to help alleviate the traffic load on Interstate 15 through the Bountiful area.