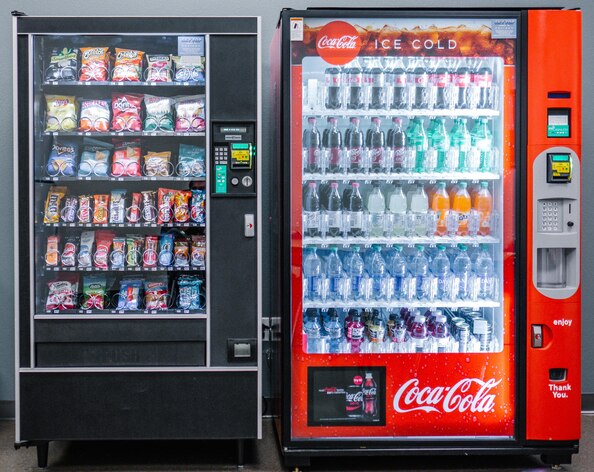 Pam's Vending offers on-demand vending solutions including beverages, snacks, frozen foods, fresh foods, and coffee. We only stock the freshest high-quality, name brand goods your customers or employees want. Our happy local clients range in size from small to huge and we've been at it for more than 30 years. Whether you have 100 people or 10,000, we are equipped to handle any size of business.
Our state-of-the-art vending machines are ideal for small to large employee break rooms, or an office building with an easily accessible open area. We provide professional on site vending that includes free set up, hassle-free stocking, and ongoing maintenance so you can focus on running your business. You provide the space and we'll do the rest!
Farmington is a city in Davis County, Utah (UT), United States. It is also the county seat of Davis County. With a 2020 population of 27,940, it is the 37th largest city in Utah and the 1389th largest city in the United States. Farmington, UT is currently growing at a rate of 3.20% annually and its population has increased by 52.89% since the most recent census, which recorded a population of 18,275 in 2010. Spanning over 10 miles, Farmington has a population density of 2,809 people per square mile.
Farmington is probably most famous to Utah locals for the amusement park, called Lagoon. Lagoon Amusement Park is a privately owned amusement park in Farmington, Utah, United States, located about 18 miles north of Salt Lake City. It has ten roller coasters, five of which are unique; Colossus the Fire Dragon, the last Schwarzkopf Double Looping coaster still in operation in the United States, Roller Coaster, one of the oldest coasters in the world operating since 1921; Wicked, designed by Lagoon's engineering department and Werner Stengel in cooperation with ride manufacturer Zierer; BomBora, a family coaster designed in-house; and Cannibal, built in-house with one of the world's steepest drops.
Farmington is located in east-central Davis County. It is bordered by Kaysville and Fruit Heights to the north and by Centerville to the south. The Wasatch Mountains are to the east, and the Great Salt Lake is to the west.