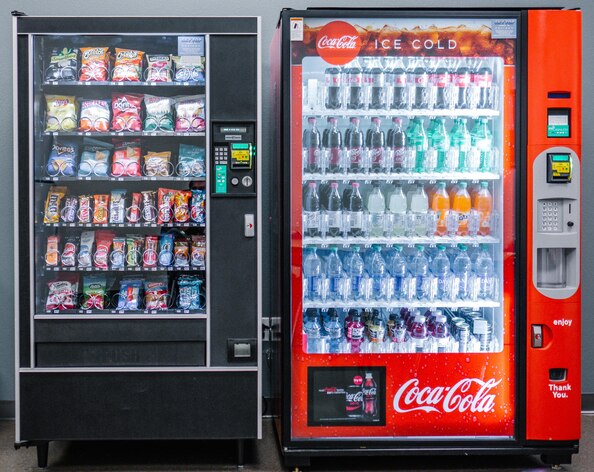 Pam's Vending offers on-demand vending solutions including beverages, snacks, frozen foods, fresh foods, and coffee. We only stock the freshest high-quality, name brand goods your customers or employees want. Our happy local clients range in size from small to huge and we've been at it for more than 30 years. Whether you have 100 people or 10,000, we are equipped to handle any size of business.
Our state-of-the-art vending machines are ideal for small to large employee break rooms, or an office building with an easily accessible open area. We provide professional on site vending that includes free set up, hassle-free stocking, and ongoing maintenance so you can focus on running your business. You provide the space and we'll do the rest!
Woods Cross is a city in Davis County, Utah and is part of the Ogden–Clearfield, Utah Metropolitan Statistical Area. Woods Cross is named after Daniel Wood, an early settler in the Utah Territory. Woods Cross is located in southeastern Davis County, bordered to the north by West Bountiful, to the east by Bountiful, and to the south by the city of North Salt Lake. The city lies along the Wasatch Front next to the Wasatch Mountain Range. Water is supplied by mountain springs and snowpack running off of the Wasatch Mountains. The climate varies greatly throughout the year, with very hot summers and mildly cold winters, with very pleasant spring and fall seasons separating the two. Precipitation is mainly accumulated in the winter and spring, but there is not enough to sustain any aquifers. According to the United States Census Bureau, Woods Cross has a total area of 3.9 square miles, all land.
Woods Cross is currently growing at a rate of 1.43% annually and its population has increased by 2.78% since the most recent census, which recorded a population of 11,423 in 2020. Spanning over 4 miles, Woods Cross has a population density of 3,069 people per square mile. The average household income in Woods Cross is $84,340 with a poverty rate of 5.45%. The median age in Woods Cross is 30.4 years, 28.1 years for males, and 31.9 years for females.